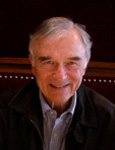 Ry started a lifetime interest in art when at age 10, he set up his own darkroom to process his photographs. He has kept all of these photos and sometimes, even today, he uses them for inspiration. Ry uses every art tool available to contemporary artists – from the latest printing processes to the computer - as he explores new design ideas. Traditional oil and acrylic painting techniques are also part of his unique tool-kit.

Ry has an undergraduate degree from Princeton and a masters degree from Stanford. For much of his life he has worked as an inventor and product designer. Simple solutions have always been his goal – reducing things to essentials. Reflecting this, the inner workings of his many product designs were as beautiful as their industrial design for which he won awards.

This same sensibility can be seen in his images, a honing of complexity to simplicity, a way of seeing that emphasizes design, shape and color. Ry's background gives him both an enthusiasm for and an intimate understanding of art. His final destination, the images he creates, moves beyond consideration of the tools he uses to an expression on paper or canvas, of what he sees and feels.
Ry's images have been on the cover of Consulting to Management magazine (Click to view cover) and in Art Business News. His images have also been on the Stanford Investment Group web site and have been on display at Harmonic, Inc. in Sunnyvale, CA. Ry has also had shows at Galleries in Burlingame, San Mateo and Carmel, the City Hall in San Mateo, and the Main Street Gallery in Weaverville, California. Ry was also the featured artist for 6 months at the Los Altos Hills Town Hall.